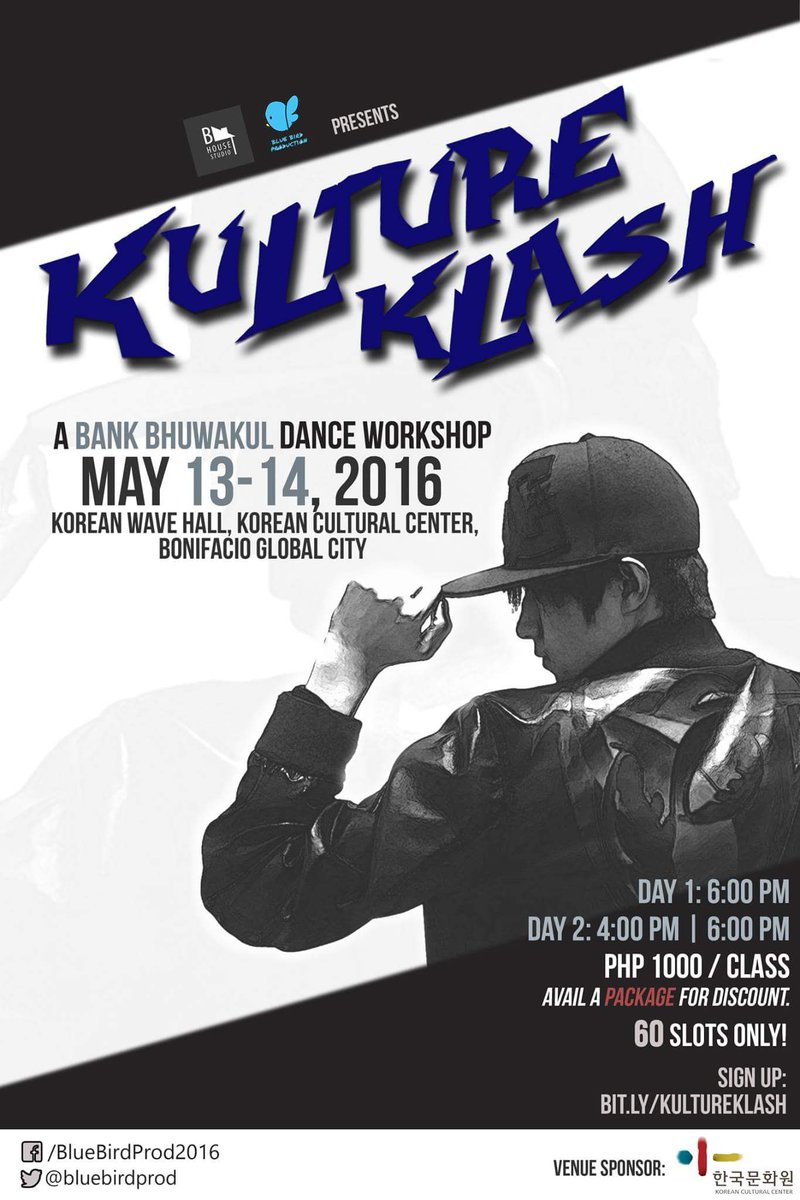 May 13 and 14 were special days for both Chindanai "Bank" Bhuwakul, the people of BlueBird Production, and K-Pop dance lovers.
"Kulture Klash" was a two-day event organized by BlueBird Production. It was a dance workshop taught by Thai choreographer, Bank Bhuwakul, for Filipino fans. A dance workshop may seem like a simple event but Kulture Klash was actually a big step for both Bank and his crew, as well as BlueBird Production. Kulture Klash was the first dance workshop Bank taught outside of Thailand, and the first big successful event for the BlueBird Production.
Kulture Klash was 5 months in the making, with preparations starting from January of this year. The event wouldn't have been possible without the hard work of the BlueBird Production staff as well as KCC. I had the pleasure to spend the 2 days with the people of BlueBird Production and had them tell me all about the event.
My first question was how they got acquainted with Bank, and it was simple: Facebook. One of the co-founders of BlueBird Prod., Ruby, added the choreographer on Facebook and had chatted him up. She found out that Bank had previous plans of coming to the Philippines to hold a dance workshop but nothing came into fruition. But BlueBird wouldn't take no for an answer. Ruby and a few friends are wholehearted fans of Bank and did genuinely want to learn dance from him. So, when their group had organized a few smaller scale, but equally successful projects, and had gained a lot of trust and support from their following, they contacted Bank again and after a lot more urging had him finally agreeing to have a workshop in the Philippines. She said that she was nervous when Bank hadn't agreed, but at the same time she didn't know exactly what prompted him to agree, "I guess it was really his passion to dance and teach dance that made him trust me with this event." Ruby said.
After, I asked why they decided to choose the Korean Culture Center as the location for their workshop. And it just so happened that a member of BlueBird Prod. is a KCC Language Class alumnus, and was aware that the KCC offers K-Pop dance classes and thought that the Wave Hall classroom would be a fit location to have Bank's workshop. The staff of BlueBird Prod. also knew that the KCC was very friendly and very supportive of K-Pop and Hallyu fans, especially during events catered particularly towards the fans.
When asked if faced with any difficulties during the planning and organization of the event, Ruby's response was that any event is difficult to put together, but their main obstacle was the finances. They wanted to offer the participants a very low price for the workshop. As an event for fans and by fans, the staff are able to relate to the financial struggle of an average fan girl. But it wasn't all easy as they had to pay off a lot of expenses; from housing Bank and his crew, their local transportation and talent fees, etc. But with their dedication and excitement, they pulled through and everything seemed to have gone according to plan. A factor that made planning easier, Ruby mentioned, was that the event organizers were all friends so it was very easy for them to contact and work with each other.
I also had the pleasure of meeting Bank and spending a few hours with him and his crew (co-dancers Mix and Praew) before and after the dance sessions.
Bank is a kind, laid back, and humble guy. However, he is also a fiercely passionate dancer. The kind of person who wants everyone around him to be dancing, even if you're a talented dancer or not. And that is exactly the environment of his classes, as well as his teaching and dance style. Bank is an extremely encouraging instructor, he asks you to give your best but never to over-exert yourself. He is the kind of teacher you don't want to disappoint because he is just that pleasant of a person. You know that one professor you wanted to do well and work hard for, who inspires you to submit your best work not because you want high grades but because you don't want to present anything that isn't up to par with his standards? He would be that professor. His classes have a very lax environment but he teaches with his whole heart, and the students, in turn, should be learning just as hard to give back.
Aside from a good classroom environment, the classes were especially a treat to fans of Got7 and Justin Bieber as he and his crew taught the choreography for "Fly" and "Home Run", and Bank's own choreography to Justin Bieber's "Sorry" during the workshop.
On the first day of the event, Bank and his crew arrived an hour earlier than the scheduled time of the class. Bank and his dancers were visibly excited upon entering KCC's Wave Hall room. It seemed they were impressed by the size of the Wave Hall and how much room they get to work with, which was just the right amount of floor space for the 20 students participating for each of the workshops.
May 13 saw Bank, Mix, and Praew teaching the choreography to "Fly". This first session lasted 3 hours with everyone dancing from 5-8pm.
On May 14, Bluebird Prod. organized two sessions with Bank and his crew, both sessions lasting 2 hours each. The first saw them teaching "Home Run" and for the second session, they taught Bank's own choreography to Justin Bieber's "Sorry".
Most of the attendees were girls but there were also a few male fans. There were also a lucky few who were able to attend all three of Bank's dance classes. Bluebird Production gave the participants different options, with some being able to attend just one class or choose to select the package that included all 3 classes. The workshop's environment was very friendly and interactive. Both Bank and his crew, as well as the organizers were very accommodating. After each class, Bank and his crew did not refuse the students selfies, and the organizers were not discouraging the students either.
Despite the dances being a little challenging, everyone seemed to have fun. Bank would tell his students truthfully, "Okay, a bit hard" or "This next step, easy." when teaching difficult and uncomplicated steps.
All the classes started with a 10-15 minute stretching routine and ended with the students being divided into 3 groups and showing the final product of the finished choreography. Bank, Mix, and Praew always danced the complete choreography they taught the students after each session was over. It was always a treat, both to the students and the staff, to watch Bank dance 101%. The staff also took many group photos after the sessions for all the students in attendance.
But why would you take K-Pop classes from a Thai person? But ask yourself again, why not? Why not expose ourselves even more to different cultures and different styles and meeting different people, and experience new things? One thing that I enjoyed most was learning more about Thai culture from Bank and his crew. They weren't just dance teachers, especially to the staff of Bluebird Prod. (who spent more than 4 days accompanying them), but they were also each others' culture teachers. Hence the appropriate title of the event, "Kulture Klash".
As the Korean Culture Center's aim is to promote Korean culture in the Philippines I asked Bank if he feels like he has contributed to the spread of Korean Culture in his home of Thailand. He said that does not find that he consciously promotes K-Pop or Korean culture, or go out of his way to actively promote it – he is  just very focused on his dancing. Bank said that he is a fan of Korean music and he also coaches a K-pop cover group in Thailand. His co-dancers, Mix and Praew are even part of Thai K-Pop cover groups.
Bank has also come to accept that he will be linked to 'K-Pop' and Korean culture in one way or another. His mother, an avid fan of Rain, own's a chain of Korean restaurants in Thailand. He has a brother living and working in South Korea. And much of his fans are also devoted fans of K-Pop. He seems to be okay with this association as long as he gets to keep dancing, which really is Bank's true love. His personal dance style is hip-hop and that's what he focuses on. Bank has accomplished a lot in the field of dancing, placing in multiple competitions, co-founding dance studios, and teaching multiple classes. He started dancing in 2010, when he was 18, and he began choreographing in 2012. When I asked him if he liked dancing to any particular K-pop songs, he said he liked Taeyang's "Ringa Linga", which made sense because Bank's personal style is hip-hop.
Observing Kulture Klash was a pleasure, because they had Thai teachers and Filipino students, dancing to Korean music. The main form of communication used was English, as it is the universal language, but aside from that, you could hear from the Thai teachers (especially Praew), and the Filipino students trying to communicate in broken Korean. Short phrases like "Annyeong", "Kamsahamnida", "Hwaiting", and "Kaja", were thrown in a few times during the dance lessons (and even including "oppa" and "unnie" during regular conversations). They even taught some of the steps using the lyrics, which prompted Bank, Mix, and Praew to pronounce Korean.
In turn the Filipino staff taught them words like "Tara", "Kuya", and "Ate". Praew easily understood "Tara" because they explained that it was the same meaning as "Kaja". And when the Filipino staff asked to learn Thai words, they used Korean for their basis, like: "How do you say 'oppa'/'hyung' in Thai?". Which were really very interesting interactions.
I was able to have a short interview with Bank and his crew before they started the workshop on the second day. They were a pleasure to talk to! Everyone was so kind, humble, and hardworking, especially Bank who tried his best to express himself despite knowing very minimal English. He often asked help from Praew and Mix and they were both eager to answer and translate for him.
First, I asked how Bank felt having his first workshop in the Philippines. He and his co-dancers responded that they were all very excited. Bank, especially, I could hear in his voice how proud he was, since this was his first time having an international workshop, and that he really considered Kulture Klash to be an accomplishment. I said that I felt honored that his first workshop outside of Thailand was in the Philippines and held at the KCC!
Then I asked how Korean Culture has affected his life, whether in dance or just in general. He said that K-Pop has done so many things for him and that these days, it's very common to hear a K-Pop song playing in public. Mix said that they even hear K-Pop being played at department stores in Thailand! This made me realize that although K-Pop is a niche market, the Hallyu wave continues to grow and is slowly becoming conventional in countries such as Thailand and the Philippines. By now, a lot of people should be aware of the existence of "K-Pop". Bank also mentioned that K-Pop continues to be an inspiration to him, as well as his friends. The first K-Pop artists they heard of and listened to were Rain, Big Bang, and Super Junior for Bank, Praew, and Mix respectively.
I also asked if they noticed any similarities among Thailand, Philippines, and Korea. They said that they did not think that much of it, but appreciated the differences in cultures, which they were all eager to learn about (all 3 of them showed a lot of interest in both Philippine and Korean culture). They did say that Filipino and Thai people looked similar, and they also mentioned that the Filipino dance style was very good and that it leaned towards hip-hop very much. They also mentioned knowing about the Filipino dance team "A Team" that has competed in international dance competitions; as well as "Se-Eon" the local cover group. They were particularly impressed that the girls on the Se-Eon team 'danced like boys', which meant that the girls' danced in a very strong way which is a style that the three dance teachers enjoyed. It seems like, as long as it is related to dance, they are willing to and excited to be immersed in it. Their love for dancing has truly transcended language barriers as dance is probably a language of it's own.
Of course I had to ask about Filipino food and Korean food, especially since Bank's mom owns a Korean restaurant. For Filipino food, Praew said she liked Adobo and Sinigang, and they also enjoyed Halo-Halo. Bank was especially taken by "Leche Flan" which he frequently (and excitedly) referred to as "the custard". For Korean food, all three dancers agreed their favorite was Bibimbap, and that the best-seller of Bank's mom's restaurant was Bulgogi beef with rice. How appropriate was it to ask them questions about food since we had the interview inside KCC's Cooking ("Hanshik") classroom!
I was also lucky enough to be with them when then the staff of BlueBird Prod. fed the dancers Jollibee. Bank, Mix, and Praew all had the crowd favorite: "C3" (Jollyspaghetti + Chicken Joy combo), and Bank seemed to really enjoy (or maybe he was just very hungry after 3 hours of rigorous dancing), because he ordered a second round of Jollyspaghetti!
Kulture Klash is a truly good example of how music and dance know no language barriers. Despite not all parties being fluent in English, Tagalog, or Thai, all everyone needed was good music, fun choreography, and love and respect for the craft. Dancing needs no words and Bank was able to fully express everything through his movements.
Even while they were still here, Bank, Mix, and Praew all said that they are all already eager to come back to the Philippines.
As the 2 days of fun came to an end, I asked Ruby on her thoughts about the success of their first event. She replied that seeing the smiles and kilig faces of the participants, plus the never ending show of gratitude coming from Bank's team, she was able to confidently say that the event was a success. Ruby also noted that there have been no negative feedback on the event so far and that they are actually already looking forward to a "Kulture Klash II".
Bank and his crew also admitted that they hope to have more opportunities to hold dance classes in the country, and be invited for future workshops, and would like to, if possible, have their classes at the KCC again!
Support Bank's dance studio "B House Studio" here.
And support BlueBird Production and any of their upcoming events here.
Written by Krew Member Victoria Puyat.