Ghoulish shop window displays… an overstock of sweets at the supermarket… horror movie marathons scheduled to air on tv – there's no denying that Halloween is upon us! And as the party invites and announcements pour in, most of us are left with a huge, almost debilitating question: What should I wear?
Well, if you and your friends are loud and proud K-Pop fans, this is a dilemma you shouldn't even be dealing with! Go all out and make a grand entrance at your school or office party, channeling your favorite idols! After all, this season is no longer limited to dressing up in terrifying costumes (I came across a taco suit and a Cup Noodles costume just now, and they're everything but scary).
To help you decide, we rounded up some fun K-Pop-inspired "costumes" that you and your squad can rock this Halloween, without fussing over complicated ensembles or looking a bit ~too~ casual.
Trust us when we say that these outfits are so easy to put together, you might even have some of the pieces in your wardrobe!
"Cheer Up"
Inspired by: Twice
A pack of peppy cheerleaders sporting "uniforms" in contrasting hues of yellow and purple, Twice shows their school spirit, exuding a fun and youthful vibe for "Cheer Up."
Outfit Essentials
-Black sports bra
-Purple varsity jacket with white sleeves
-Stretchy high-waisted black shorts
-Sneakers (Twice wore Nike Dunk Hi 08 shoes, but you can go for any comfy sneakers that look similar)
-Vintage tube socks in black, white, yellow, or purple
-Snapback cap
-Pink pompoms (to bring on the cheer, of course!)
"Rebelles"
Inspired by: f(x)
Not a fan of perky cheerleaders? Perhaps, you'd like to go for an edgier look like what f(x) rocked in "Red Light." An interesting play of textures in dark and muted tones, their getup will surely unleash the rebel in you.
Outfit Essentials
-Distressed t-shirt cut-offs
-Black camisole
-Crop top/bustier
-Distressed dark denim shorts
-Camouflage shorts
-High-waisted black shorts
-Black tights/fishnet stockings/knee-high socks
-Wide-brimmed black flat top hat
-Net arm sleeves/fingerless gloves
-Combat boots/strappy platform sandals
"Retro Chic"
Inspired by: Wonder Girls
Wonder Girls are hands down the queens of retro in the K-Pop world. Pulling off the fashion (and sound) of the yesteryears so effortlessly, they're the perfect group to draw some inspo from when it comes to donning the vintage look.
Outfit Essentials
-Sheath dress with bold patterns (either long or short-sleeved)
-Solid-colored tights
-Solid-colored high-heel shoes
-Hoop/dangling geometric earrings in bright colors
"Scoot Away"
Inspired by: Crayon Pop
Call their costumes silly, but since Crayon Pop's quirkiness received a nod of approval from Mother Monster Lady Gaga herself, there's nothing much left to argue about here. Just like what their group's name suggests, Crayon Pop's "Bar Bar Bar" outfits come in cheery bursts of color that will make you and your friends stand out in the party.
Outfit Essentials
-Bright-colored track jacket
-Matching track shorts
-Black tights
-White sneakers
-White gloves
-Scooter helmet (you CAN'T miss the most iconic piece in their getup!)
"Old-School Charmers"
Inspired by: SEVENTEEN
A great example of "not too complicated or too casual," SEVENTEEN's "Aju Nice" costumes are as charming and playful as the funky track they're assembled for. Needless to say, this is best worn with your pack of bros.
Outfit Essentials
-Long-sleeved button-up white shirt/white graphic tee
-Black slacks/denim jeans
-Red/black suspenders
-White socks
-Black and white Oxfords/black sneakers
"Galactic Rangers"
Inspired by: EXO
We saw EXO on a mission in a galactic wasteland, battling a robot that took away their supernatural abilities  in "Power," which is arguably the group's most rollicking music video yet. Veering away from their usually chic and sexy styles, they went for military-themed outfits.
Outfit Essentials
-Camouflage/black/olive green bomber jackets
-Plain black/black and white checked t-shirt
-Cargo pants/distressed jeans/black jeans
-Combat boots/sneakers
-Tactical harness and goggles
-Black cadet cap
-Prop toy guns (believe it or not, EXO used customized Nerf guns in the MV)
"Odd Party"
Inspired by: SHINee
No K-Pop music video screams "Halloween party" quite like SHINee's "Married to the Music." Known for their unique and fashion-forward concepts, the quintet stepped up their game in their summer 2015 release, which turned out to be a surprisingly macabre MV, reminiscent of the 1975 cult classic "The Rocky Horror Picture Show."
Outfit Essentials
-Bright-colored jacket/blazer (feel free to accentuate it with patches)
-Heavily-printed/graphic tee
-Distressed jeans/bright-colored dress pants
-Lace-up black shoes/combat boots
-Vintage socks
-Animal print snapback cap
-Scarf/sweatband (to be worn on the forehead)
-Dark-rimmed glasses
-Prop skeleton hand or wooden hand model (to be placed in pockets, with phalanges peeking)
Got anything else to add? Sound off in the comments!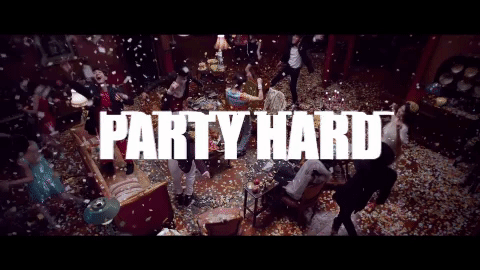 Written by Krew member Andy Flores