Annyeong! We are Dawn and Andy, and we're both nursing a major bout of post-concert depression after attending EXO Planet #4: The ElyXiOn at the SM Mall of Asia Arena last 28 April, Saturday.
Dawn: I have been a fan of EXO ever since I saw them at Manila Hotel last 2013. I gradually forgot about the other K-Pop groups I stanned and just focused on them. The group has been a great inspiration for me since college. I even put "we are one" in our thesis! I started attending their concerts when I started working.
Andy: Truth be told, I don't consider myself an EXO-L. I would, however, call myself a huge fan of Suho. I first saw him on the show "Exciting India" just when I was starting out in the K-Pop fandom almost two years ago, and I instantly fell for his charm and awkwardness. This doesn't mean I don't like the other members, though, because I've come to like them, too. I wouldn't have caught The EXO'rDIUM and The ElyXiOn otherwise.
THE SET LIST
Dawn: I think The ElyXiOn's set list was a bit shorter than The Exo'luxion's and The EXO'rDIUM's, but I like this set list because they had a chance to perform individually and also because they got to perform my all time favorite "나비소녀 (Don't Go)" during the encore.
Andy: I didn't notice how much shorter it was than The EXO'rDIUM until friends on my feed pointed it out. Perhaps, it's because I just really enjoyed the concert through and through – from "The Eve" to "Angel." Also, like Dawn, I loved how almost every member got a solo stage. It gave them the opportunity to prove that a member, alone, can bring a show.
WRECKERS

Andy: Okay, may I just say na-Jongdae ako??? Like, damn. Had I known I'd be in for a gun show courtesy of muscle shirt-clad Chen, I would have bought life insurance before attending the concert. He surprised me. He really did! He looked so damn hot that night. Summer na nga, pinainit pa niya, bes! Seriously, people, beware of Kim Jongdae. He's a dangerous man. I still love Junmyeon, but Chen is a revelation. Haha!
Dawn: I didn't even know who my bias in EXO was before, but after "Growl," I finally made up my mind, and my heart told me that my bias is Junmyeon. I can't help it. He is just so angelic. BUUUUT this concert made me a SeKai trash because of the interactions I had with them.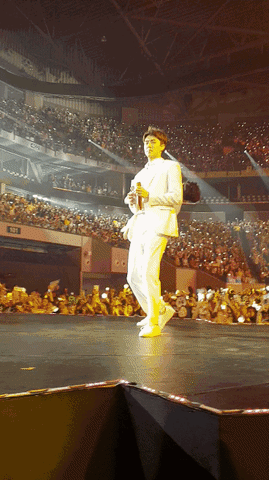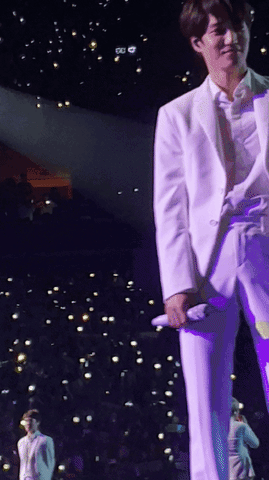 Andy: OMG! Lucky you!!! In a crowd of 10,000, you got noticed! How was it?
Dawn: I was just holding my phone, calling their names, and making gestures to get myself noticed. I threw a finger heart then waved, and they waved back at me . I felt visible after that and realized, "Shocks…nag-eexist pala ako!" Haha!
THE PIT
Andy: I like sitting in comfort during K-Pop concerts. Before The ElyXiOn, the only time I chose to stand in the pit at a K-Pop concert was during SHINee World Concert V (SWCV), and I could say that both experiences were different for me.
SWCV was exciting because I got to see my ultimate bias group in the flesh for the second time. But the concert being held in a foreign country also meant that there's somehow a divide between me and the people around me. Moreover, the stage was a lot higher and the barricades were comparably farther, so even though I was pretty close to the fences, I had to tiptoe and crane my neck just to see SHINee whenever they performed on the main stage.
For The ElyXiOn, it was really fun because I was in my home country and in the company of (mostly) Filipino fans. The stage was a lot lower and the barricades were closer to the stage, too. I don't think I have ever been THAT near K-Pop idols before. I had to leave my much-coveted spot at the barricade during Suho's "Playboy" performance, though. I was squished in front of the extended stage, and couldn't see a thing when I turned to my side. I didn't want to watch the entire performance on the LED screens or other people's smart phones, so I made my way towards the main stage. Didn't regret my decision.
Dawn: I have been attending EXO's concerts ever since their first solo show in the Philippines. I've even experienced The EXO'rDIUM in Bangkok! I always chose to stand because I like the proximity. I meet a lot of friends in the pit, but this con gave me body aches. EXO comes here just once in a while, that's why I truly understand the excitement of PHIXOs. They really wanted to get closer to the stage, so they tend to push everybody out of their way just to be nearer.
Of course, a little run-ins can't be avoided. My hair was even pulled by a Korean fan because she thought I was pushing them.
Andy: Oh, yes. I have been warned by friends about this, which is also one of the reasons why I don't really choose the standing section when purchasing tickets. I didn't think things would actually get rough, but they did, and I'm kinda scared of being in the pit again, but, hey, it's all part of the experience.
Dawn: But given the chance will you stand in the pit again at EXO Planet 5?
Andy: If the opportunity presents itself, I don't see why not!
FAVORITE STAGE
Dawn: I don't want to be biased, but I like Junmyeon's solo best. HAHAHA! I have three favorite performances – first is "The Eve" (KYAAAAHHH! JUNMYEON'S high note before the chorus!!!). Second is Kyungsoo's "For Life" – I need a full version of this song so I can play it on my wedding day. The silence of the crowd made me cry. Kyungsoo's smile was so genuine. I wanted to hug him. My last favorite performance was of course their latest song, "POWER!"
Andy: Suho's "Playboy" for sure, BUT I loved "For Life" too, coz damn Kyungsoo's voice… You really can't deny that he's among the best vocalists in K-Pop today… or ever! Chanyeol playing the piano is an extra treat. EXO-CBX's stage was also super fun! I found myself dancing to "Ka-CHING!" It couldn't be helped.
THE ELYXION VS. PREVIOUS EXO PLANET CONCERTS
Andy: I don't think I am in the position to compare in detail, because I have attended just two of EXO's concerts so far. But if I were asked which one I enjoyed more, I would say The ElyXiOn. EXO keeps getting better at their craft, and it shows in the performances they put out. Though I have to say I missed their acoustic set, which they had last year during The EXO'rDIUM. I love chill EXO. Haha!
Dawn: I think the stage in The ElyXiOn is nearer than ever. The ElyXiOn is not just about EXO's concert, but also an avenue to showcase the fan projects that EXO-Ls have in store for EXO. The fan projects before were too many and too grand. I didn't even know what to do and just forgot about the project, and, looking back now, I think I failed as a fan because I did not participate in those projects.
That said, I find this concert's project simpler, yet it had a strong impact. I like it that way.
This year's con also exuded a matured EXO vibe. I saw that they ditched the cute musical elf costumes and just wore the ever-sexy white suit.
They got sweeter too. From Chen's ment last year "Filipinos are warm, passionate and beautiful" to Suho's "You are our paradise." – nothing can get sweeter than that.
Also… BAEKHYUN is so extra… as always.
LOOKING FORWARD
Dawn: I am looking forward to a longer concert. And more Junmyeon interactions LOL! Soooo greedy. Haha! One day was not enough but it is enough for our budget. Haha!
Andy: I'm actually worried… worried about my bank account. Lol! I feel like the next time I see EXO, I might actually become and EXO-L. But, whatever! I am always up for a good concert, and I'm sure EXO Planet 5 will be nothing short of amazing.
Words and photos by Dawn Naval and Andy Flores